Hello and welcome to my blog!

My name is Shari Sprague and I LOVE dogs!  My dogs are my little fur babies and considered part of my family. Even all the dogs I work with here at PUP Rehab, I have to admit, have become a close part of my heart as well.  Each dog I get the privilege to work with is unique and special.  Working with dogs and helping them get better, feel better, and improve their quality of life is truly my passion.
I am the owner and canine rehab therapist at Pawsitively Unleased Performance (PUP) Canine Rehabilitation and Conditioning.  Before starting this company, I enjoyed my experiences providing physical therapy to people.  I practiced that for nine years, specializing in orthopedic and sports rehabilitation. After realizing animals' needs of physical therapy, combined with my abundant love and care for dogs, I soon learned that it would lead me down the path to become a CANINE physical therapist.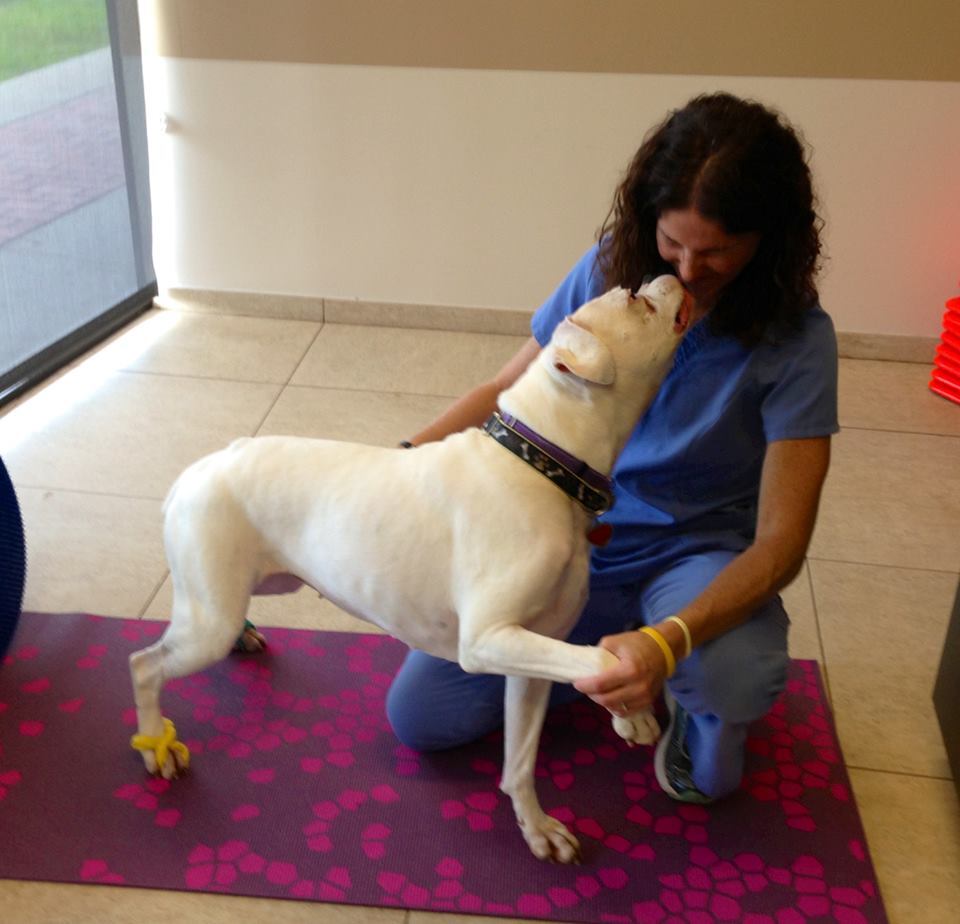 In 2007, I began working as the rehabilitation manager for a veterinary facility in Davie, FL and a year later became certified in canine rehabilitation from the Canine Rehabilitation Institute. After 4 years of working there, I then worked for two years in a multiple specialty veterinary hospital in Coral Springs managing their canine rehabilitation department. As my experience grew and the need for canine rehabilitation became in higher demand, I decided to open my own business in July of 2013, PUP Rehabilitation and Conditioning.
I am currently on the faculty at the Canine Rehabilitation Institute and am a certified Clinical Instructor.  I am happy I was able to start PUP Rehab to help dogs literally get back on their feet.  It's so rewarding to see each dog benefit from the rehabilitation or conditioning through PUP Rehab and their owner's help.  
Now that you know a little about me, please feel free to check out the rest of my website to learn more about how I use rehabilitation therapy and conditioning to help dogs get back their strength, mobility, capabilities, energy, and their amazing spunk!
Throughout this blog I'll talk a bit about some of the treatments I do for dogs, how they work, what they can be used for, and even try to share some success stories.  But since I know you must be a pet-lover, I'd love to talk just about that… Things relating to pets, dogs, dog-owners, events, dog news, fun finds, interesting articles, etc.  I want you to learn the important information about how rehabilitation or conditioning can help your dog, but I also want to provide insights on other fun things pet-related. 
If you ever have a topic you'd like me to discuss, please just leave me a comment here or send me a message on my site! We'd love to hear from you and hope you can take this blog as a fun read with beneficial information, and ENJOY it! And please feel free to share, discuss, or comment here as well as on my Facebook page.
If you think your PUP needs some rehabilitation therapy or conditioning, please feel free to contact me on my website, my email, or give me a call at 954-812-9160. Thanks! Now go enjoy some quality time with your dog!